Word on the internet streetz is that
Rih Rih's new man is Shia LaBeouf
. Anybody else remember dude from Even Stevens...before these recent movies? Damn.CiCi and Eve had a party to celebrate Signature Apparel at TAO Beach last night in Vegas:
Both ladies held it down fabulously.


Yung Joc had his Hustlenomics album release party last night at Opera in the ATL:

Bobby V showed up.

And it's official:




Mel B. will be one of the contestants

on Dancing With The Stars kicking off September 24th...not a host like previously stated. Chick is serious about her comeback game huh?
Source: Buzz Foto
Oh Diana....


And because we never get too much of Baby Zahara, here's some more pics of her and Daddy's day out yesterday in Central Park: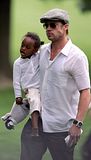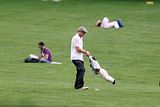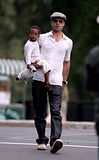 Gotta love it.
Here's some shots from J-Lo's new video "Do It Well":


Pic source: ONTD

This ought to be interesting....

The Randomness:


Brandy's featured on a new track called "Comin Over" by an artist named Brutha.