Bigga hit up the USA Men's Senior National Team b-ball game in Vegas yesterday:
Chick looks hella bored right there. Ladies you know how it is when your man is ADAMANT about explaining the game to you.
Oh really?



Cuteness.Rih Rih's filming a new video for "Hate That I Love You" ft. Ne-Yo....and the ish looks real familiar:

That outfit is looking real Irreplaceableish. I'm not sayin'.....but I'm just sayin'. Hot outfit though...



And she's rockin the hottest YSL tote of the season. Loves it.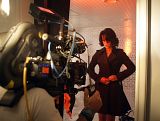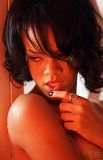 Rapheal Saadiq and Chrisette Michele performed at the Heineken Red Star Soul Concert Series in Cleveland:










And here's Jill Scott's new cd covers:




So damn fabulous.
Serena hit up TRL to show off some tennis moves yesterday.
Lil Kim got caught up by 5-0 driving without a license and without tags yesterday. At least it wasn't a DUI...

The Randomness:


Sean Kingston may be playing Biggie in his biographical movie.

Story