All kinds of fabulousness has been going down in The Wood. Zoe S. was spotted outside the premiere of El Cantante in LA last night:



Fab as usual.
Meagan Good was spotted out to lunch yesterday at Urth cafe:
I've always thought Meg was a fab chick. I love how she sasses up a casual outfit...when not rocking that Juicy jumpsuit in every color. And her hair and skin look hella fab.
Pic source: LSA

And all kinds of celebs hit up Target Hosts Common's Finding Forever Album Release event last night at L.A.'s One Sunset :


The sexiness that is Common. No other words need to be used.
Tracee and Micheal's long lost son/her brother Evan were there. And I'm LOVING Tracee's look.
This one. Yes ma'am...loves it.


YBF chick Lauren London was there:



She loves those Chip and Pepper jeans.

And hot damn that Serena is WORKING IT OUT these days:


Just fabulous.



And let the YBF prayer circle 2.0 say.....Amen.





For some reason Diddy is making another video and this one's featuring LeToya called "Diddy Rock":





Whatev. Toya looks cute though.


Speaking of Diddy, he had a party in St. Tropez last night:



And the master of bold designer prints Roberto Cavalli came along.


And now a random but fitting pic of Diddy out and about on the French coast yesterday:




Ha.


Celebs hit up the Rush Hour 3 Los Angeles Premiere After Party at Les Deux Monday night:



Chris was there with Momma Tucker.



Vanessa Williams was there too.And Chris Rock was there protesting lip chap *

thinking that damn Saaphyri's got me saying "lip chap"*

:



B was looking laid back fab leaving the TRL studios yesterday in the NYC:


Yeah we peeped that cute Nets tee subtle shout out to Jigga. And I see she's still rocking that hideous $42,000 Louis Vuitton bag. Close up here from a previous time.





And she was off to check out the Lion King on Broadway.

Am I the only one way too excited about this new "Fashionista Diaries" show coming on the Soap channel?: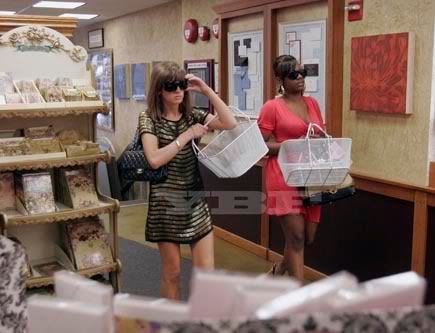 Tina Patient and Janjay Sherman
It starts tonight and it's an Ugly Betty meets Devil Wears Prada meets Project Runway reality tv show where everyone's competing to be the best fashion assistant. Loves it!





The Randomness:


Nicole Ritchie confirmed to Diana Sawyer last night that she's 4 months preggers.

Story

Nice strategy. But your ass is still going to the slammer.


Check out "

Real Women Session

" by 3 of my fave artists UGK, Raheem Davaughn, and Talib Kweli. It sounds like a new "Guess Who Loves You more" remix. Gotta love it.


Jon Voight admits he and Diana Ross were in an intimate relationship...but he says the papers who said it a while back were hella late. It went down a few years ago.


It's official...Barbara and Co. announced today on The View that Whoopi is the brand new moderator of the show. I guess I'll be watching again...
Stay fabulous y'all!