T.I. and Tiny decided to throw their son King his 2

nd

b-day party recently:

Because what 2 year old doesn't want an adult boxing ring and a girl singing group at their birthday party?


Source: S2S
I'm not 100% sure of what all was going on here...but ish just looks real interesting.




Ak is all over the pages of the new issue of VEGAS magazine: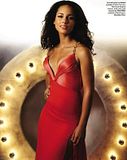 Gorgeous. And

apparently

she no

likey

the industry dudes. She says:
"…I am not interested in guys in the industry. They are tainted," she says with a playful hint of repulsion. "You sit back and wonder, how many women has this man slept with. And I don't want to know. No thanks, I will never be apart of anyone's list."

Hmmm

....Terrance Howard, John Legend, and Sheila E. are living it up at the Playing for Good Foundation Poolside Party in

Mallorca

, Spain:
And why is Sheila E. looking so damn fabulous these days?:

Chris Brown performed on the Today show this morning:

Got grown ass women just

droolin

'....Here's Lil Mama's new video for "G-Slide/Tour Bus":
Ummm bump Lil Mama. Who is this cutie in the vid with her?The Randomness:


GTFOH! Tatyana Ali is joining Young and the Restless as Devon's new lil boo.

Story

Loves it!
Have a FABULOUS Labor day weekend!