Mama Tina wasn't playin' y'all. Her debut "spicy creole inspired" premiere couture fashion line is up and running over at the
Home Shopping Network
. Now I lived in Louisiana damn near my whole life and never have I heard of creole couture clothing...until now.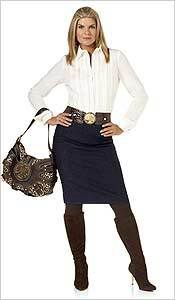 I can't even front...I'm kinda feeling that outfit on the left....sans the bag. But as for the rest of the "couture"...hmmm.
In other news...Jenny looks like she's getting back to her On The 6 days with her new video shoot for "Do It Well":
And Kanyeezie performed at the V festival in Weston Park, Stafford yesterday:
Fun times.
The Randomness:
1. Oh fabulous ones...you put YBF into the Black Weblog Awards Finals. Fabulous! So
you can get ya final vote on right here
.
3. Check out J. Holliday's remix for "Bed"

right here

featuring Nina Sky.