T.I. at the ESPY Awards taping last night
All that damn apologizing at the BET Awards for him snapping on Chaka Zulu was some bullsh*t. Why?
Because Clifford Harris lost his damn mind once again
during his concert at the ESPY pre-party at the Roosevelt Hotel on last night. Apparently he jumped off stage into the audience after somebody threw a cup at him....charged at them in the audience...and proceeded to whoop their ass with his mic. The victim had to be escorted out. Damn Tip.
Mo'Nique's new promo shots for her show are out. Hmmm....
Here's some pics from Olivia's video shoot in NY yesterday:

Assie was spotted outside a private party in the NYC last night:

And somebody please make me understand the fascination with these bedazzled sequins hats these chicks are rockin' these days:
Christina had one on at Hyde Lounge Tuesday night.
And Kelly was spotted walking around the NYC with one:
So Pharrell's got a new main chick:

Her name is Alesha Dixon and they met a couple years ago when he asked her to be in his "She Likes To Move" video when he saw her on the cover of FHM. Apparently she just divorced MC Harvy after she caught him cheating. And now...she's making her ex super jealous. Especially since Skateboard P gives her keys to the $1 million Bugatti...with drive.

Fanny is negotiating with the producers of a big musical to star in another Broadway play. It will be based on the life of Ada (Bricktop) Smith, an African-American expatriate in Paris in the 1920s who became a nightlife queen.
Kim was spotted shaking her ass at her birthday party last night. TMZ has the vid.
Say it ain't so Eve:
Kickin' it at the Highline Ballroom last night in NY

A celebrity publicist named Jonathan Jaxson is now dishing dirt about folks. He says that he overheard a prostitute being ordered up to Eve's hotel room in Miami recently at the Setai hotel....and the prostitute was seen leaving E-V-E's room hours later. I mean...did she really have to pay for this? Shake the tambourine then....
And finally...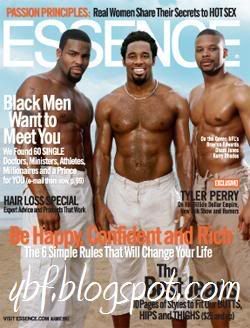 This month's cover of Essence is indeed yummy. It's a double "Do Right Men" issue...the other cover is Tyler Perry.

The Randomness:


Check out a leaked track off Kanye's Graduation called "I Still Love H.E.R." Classic Kanye. Loves it.



Rumor has it Brandy and her ex fiance Quentin Richardson are back on. They were spotted on a few dates last week...but Q's teammates say they aren't a couple. Sources have been saying though that they were spotted in a booth at Hard Rock Cafe being extra kissy kissy.
Stay fab!