So Ursher
has finally given his first official statement to MTV
that he is indeed engaged to Tamika Foster and plans to marry by the end of the year. But my readers already knew this
since I confirmed it (thanks to my sources) a month ago
. He also says his new album will be here by November. My sources tell me that he is, in fact, going to coincide his album drop with his wedding since Ursh is still the pubicity slut he's always been. But many folks close to him aren't to cheery about this impending marriage still...especially his momma. Apparently they still think Tamika has something up her sleeve, especially since she is now on her own mission to hit the fashion scene with her own designs with only "stylist" experience. And the fact that she cheated on her ex-husband with Ursh doesn't help either. Time will tell....


Jenny was spotted at the airport recently:




I'm letting her slide with these damn socks. I like to be hella comfortable and warm while flying too.
Oh really Life & Style?: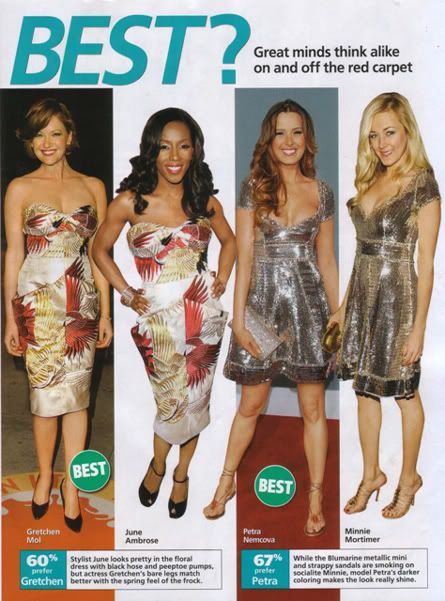 So June's people e-mailed me this article in the current issue and pointed out that Blacks are rarely ever featured in the "Who Wore It Best" column. And when they are, they rarely ever win unless it's Beyonce. But now June's supposedly a bit upset about how they went about this. The caption reads "Stylist June looks pretty...with black hose..." But June NEVER wears hose at all and definitley wasn't wearing them here, so folks are suspecting that the Life & Style peeps weren't conscious enough to distinguish black skin from black hose. And since they picked the "bare skin" to go better with the dress...it rose some brows. Anywho...you vote YBF readers. Who rocked the dress the best? June or Gretchen?
And I wasn't going to post these, but I came across a few that NEEDED to be talked about. Celebs hit up BET's Spring Bling in droves:
WTF Pretty Ricky? So is this what lil girls think is cute these days? Just wrong on so many levels...
Jim Jones clearly still hasn't taken a bath since 2003.
Marques tries so hard to stay relevant...
Sooooo Remy Ma. You thought this spandex outfit was cute because.....?
Moving on.....
And finally, Rihanna's first single called "Umbrella" off her 3rd album Good Girl Gone Bad can be heard for the first time at
her Def Jam website
right now. The single features her boss (likely in more ways than one) Jay-Z. Hov usually makes any track gold regardless of how whack the track is thanks to the singing. But damn if he couldn't even save this one....


Her new album
is due out June 5th and she also kicks off her CoverGirl ad campaign this June.