Kanye and Alexis hit up her NY Fashion Week Ghita show last night:


Awww how cute. I'm sure she was just trying to shut down another temper tantrum.


Celebs hit up Jenny's Just Sweet show:




Just Jared posted a real suspect baby bump pic. I say 3 months preggers at least....

Mya was there.And so were celebrity stylist June Ambrose and celebrity publicist Marvet Britto:

And lots of celebs hit up the Heatherette show:




Chick parlayed that Sweet 16 stint into a magazine cover. Gotta love it.
Apparently she's also signed to Pharrell's label.
Egypt was there.


And so were Diddy and Andre Harrell. Snaps for the kids.
I can't take it Ms. Jay. I just can't.
Sherri Saum made and appearance at the Jayson Brunsdon show:
Anika Rose was spotted at the Carmen Marc Valvo show:
And so was Socialite Grace Hightower.
Seems like hip hop s a real good look right now: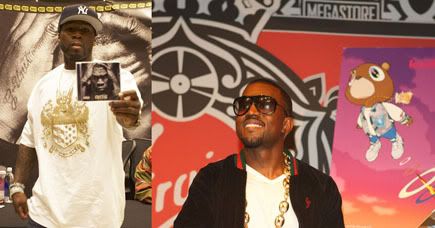 After Day 1 of the Kanye/50 faceoff, Billboard and Hits Daily Double are both reporting (based on first day sales) Kanye in the lead with a projected one week 750-800k record sales. Damn. Nobody's really touched numbers like this in a long while...skewed or not. That's a good look Mr. West. Especially since Graduation is the hottest ish in on a cd right now. It brings me back to those Late Registration days. Congrats to 50 too for landing a projected 1 week 600-650k in sales yesterday. That's hot.


YBF folks hit up the Los Angeles Confidential Pre-Emmy Party:

Fuane Chambers and Mr. Bentley are still playing that role:

Dude is looking extra dapper in that suit though. Loves her dress too.
The Randomness:



We're working out the kinks of the new site today. Thanks for being patient and ALWAYS fabulous!