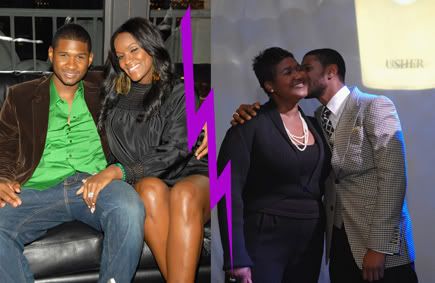 Ursh's new wife Tameka and his mom Jonetta have been playing nice for the cameras after this whole wedding drama, but YBF snitches saw first hand that their beef is some real ish. At Usher's special fragrance party last night at NY's Cipriani's, Jonetta showed up to "support" her son. But she stayed extra close to her lil boo (emphasis on lil since he's half her age) and her other son James. When Tameka arrived hours late, she walked past her mother in law and bitterly ignored her. According to my source:
"...you could still slice the tension in the room with a knife when those two walked right past AND ignored each other a few times. They may have made nice for a camera or two, but don't believe the hype."
Ursh also made a point to shout out his moms every 30 seconds on the mic and dedicated his fragrance to her. Sounds like he was trying to make up for letting this wedding/pregnancy drama get to a foolish point. But Momma Ursh is still pissy--with both of them. Maybe that explains why Ursh is

only seen wearing his wedding ring when wifey's around

. Feeling guilty much?