Sources are saying Mama Patton has put out a restraining order against Ursh's fiance Tameka. Damn. And his publicist put out a statement that she has cut ties with Ursh--but they still remain friends. But a source has revealed to me that Simone actually cut ties from him about a month ago...but kept it under wraps. Apparently Mama Patton aint the only one who no likey Tameka. Ursh's longtime publicist since he got his start in the biz, Simone Smalls, has cut ties with him too. She put out a statement today that read:



"I developed and executed an amazing public relations campaign that aided in Usher's transition from teen R&B singer to pop superstar.He became one the biggest modern day global superstars and talent brands under my guidance. I'm just moving in a direction professionally that will not allow me to dedicate the same undivided attention I gave him for nearly a decade. I pass the baton to whomever works with him next, because the foundation that I laid out for him should assure them continued success. Usher and I still remain friends."
But my sources tell me Usher was the one who fired her....and it happened about a month ago. Apparently Usher is getting rid of everybody in his camp...momager, publicist, security, road manager....all due to the influence of Tameka. And supposedly it's for publicity purposes as well. Ish just got real interesting.
Rih Rih co-hosted TRL yesterday and Ci Ci, Cameron Diaz, and Mims were all on the show:

A tad over dressed for

TRL

...but still a cute look.

And then Rih Rih performed at the "Links For Life" Gala to benefit DKMS and The Bone Marrow Foundation:
Naomi "I rocks Garbage Pickup Couture" Campbell is gracing the cover of W Magazine:




And all her pics inside: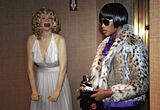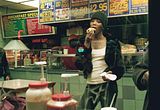 Ha.
Mel B. was spotted leaving dinner yesterday looking all kinds of fab:







Uber

fab chick

Sanaa

Lathan

was spotted out an event recently:



Apparently there was a nipple slip wadrobe malfunction. But it wasn't caught on camera.


D. Woods and Aubrey of

DK

hit up Christina

Aguilerra's

tour wrap party in Disney World this week:



I understand that Diddy doesn't want to rain a few dollars to these chicks for a stylist. But DAMN can somebody spring some change for a MAC makeup class?
Folks are in an uproar about Lady O inviting the Kellz to a showing of The Color Purple the last night as her guest:
Interesting.
And speaking of the

Kellz

...clearly

Omarion

and Bow Wow didn't learn a lesson from

Hov

and the R. about doing a Best of Both Worlds tour:
Word has it they are in the midst of planning a similar tour and album featuring both of them. Hopefully it turns out less criminal than

Hov

and R.'s.
Kelly R.'s album cover is here:



Hotness.And B was spotted leaving her hotel room in Vienna yesterday:





Chick is clinging on to that winter leggings and black mini dress trend I see. But I

aint

mad...she looks fab.





Remember Tamika Scott from

Xscape

?




She has a brand new video out for her new single "Greatest Gift". Her new album is coming out soon. I know Tiny is somewhere thinking it's best she stay running behind T.I. Yeah I said it.
Stay fabulous!