First Don Imus gets more publicity getting fired from both his jobs than he's ever had working them, now Rocsi is gracing the cover and spread of the June issue of KING magazine: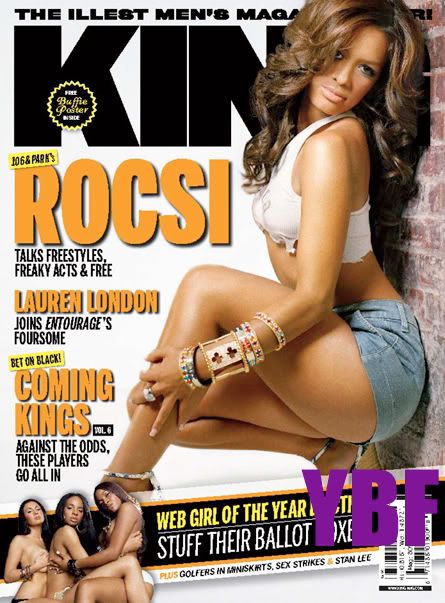 Whack folks are clearly having the best week ever. But I would still rock the hell out of that second look though. Check out King Online to see more about the issue. It hits stands April 24th.


CiCi performed at the Redline Los Angeles Premiere last night:

Cute couple Denyce Lawton and Wesley Jonathan were there.
And so was the star of the movie Eddie Griffin and he was chillin' with Wyclef.
Lady O joined Larry King for his 50th anniversary in broadcasting for an interview:


It airs Monday, April 16 at 9pm ET on CNN.Fab chick Kerry Washington was spotted at the Los Angeles Confidential Magazine and the Creative Coalition Dinner Party last night:




It was at Simon L.A. Does this chick work?
And word has it
she has a new man in her life since she broke off her engagement recently.
Model chick Claudia Jordan had a b-day party at Skateland in Northridge, CA:



Bump Claudia...who are those two embodiments of sexy in the KANGOL hats on the sides of her?
Cole/Carl Payne came through.

And so did Eddie Murphey's ex-wife Nicole.
Victoria Rowell was at her book signing at Lesport yesterday:


And Bre came through too:


Not the best look on her. But she's a fab chick nonetheless.


The Randomness:
Jason Kidd is ho'ing it up around the country now that he's single.

Story
Stay tuned!