Just when we thought Mel B. went and named this child Fortuna or some ish like that...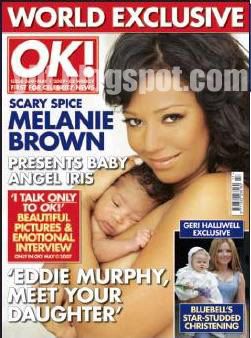 The real name has surfaced. This YBF baby is
Angel Iris Murphy Brown
and is too cute. I see you Mel gettin' all gangsta putting Eddie as the daddy on the birth certificate and giving the child his name and stuff. So now that we have enough evidence for a daddy/daughter Maury Povich split screen...let's get this paternity test show on the road peoples.....
It's official...
Disney's
first black princess is Anika Noni Rose
. She beat out Tyra B., Jennifer Hudson, and Alicia Keys for the role of Disney's Frog Princess. She'll be giving her voice to the 19 year old character "Maddy" (which has been rumored to be dropped as the name of the lead character) who lives in 1920's New Orleans in The Princess and the Frog (the rumored new name of the movie). It should be out some time in '09. So am I the only one who didn't know Anika was in that horrible From Justin to Kelly movie?
Word has it
Amerie has insured her legs for $2 mill
. If only she could do a fourth of that number in record sales....
And we haven't visited the sexiness that is Reggie Bush in a while. So let's focus...
*Sigh* He was at a country club event a few days ago still looking scrumptious.
The Randomness:
Russey wants to censor hip hop.

Story
Keep it fab!