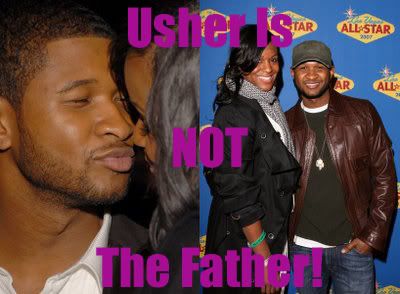 OK folks. Y'all know I ONLY report ish that holds water. by . The rumor mill is right this time around....Tameka is indeed pregnant. But there's more to the story according to 3 of my extremely credible sources who all have personal relationships with Usher. Tameka is reportedly four months pregnant and the father of the child is her ex-husband Ryan Glover's. NOT Usher's.
I first reported here on YBF that Usher and Tameka were back together back in February

when he started bringing her to every event he attended. Tameka was actually pregnant before she and Usher reconciled their relationship--explaining their speedy and suspicious engagement. Usher is indeed playing himself because he is about to come out pretty soon about the baby and will claim it as his own. And of course Tameka will let him because he's her meal ticket and her way into the fashion game she's so desperately trying to enter. My sources say he consistently does things like this to manipulate the media (surprise, surprise) into following his every move so that he can hit platinum and "most coveted" status in no time. Hence his new album dropping in November right along with this real speedy and suspicious wedding to Tameka that will definitely go down at the same time.

This saga is reminiscent of he and Chilli's breakup, her being in his videos, and him coinciding the dropping of certain singles from Confessions with his breakup with Chilli to make people talk. Usher is known to do this throughout his career, but now he's hit an ultimate low. So when all this ish hits the fan, y'all know YBF is where you heard it first.