Akon is somewhere real pissy that MJ got away with grinding on some young chicks in public....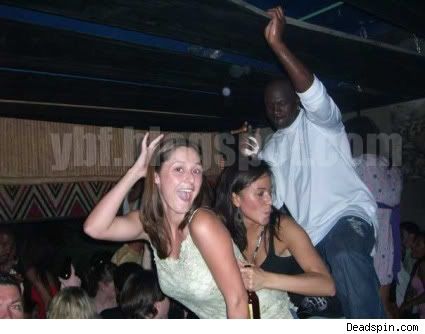 In Cabos St. Lucas this weekend
Damn Mike. Juanita who? He was just WAITING to publicly announce that divorce...





Here's B's Samsung F300 UltraMusic phone commercial:




I know she's glad she signed on to get that ad money in the bank seeing that
she just had to pull all her B'Day Deluxe albums
. The copyright infringement case by De'Seree I told y'all about a lil while ago has caused B to yank that ish off the shelves. I can just see Mama Tina's and Papa Knowles' eyes doing the "crazy eyed Sasha" right now. Woo-saaaaaaa....


The 2007 Lifetime UpFront with Performances by Maya and Patti Labelle went down yesterday in NY:


I can only imagine how this sounded...
Joe's Aint Nothin' Like Me drops today and he was out signing autographs and performing at J&R Music and Computer World:
Hopefully folks wont sleep on this joint. And I'll be giving away new autographed cds from Joe at my YBF Meet and Greet/Natasha's 25th b-day party next week.
The Randomness:
All the details ...including the location...of my 25th birthday party and 1st ever YBF Meet and Greet are over at my gossipspace.