Kinda slow news day...
Looks like Mario just got caught up: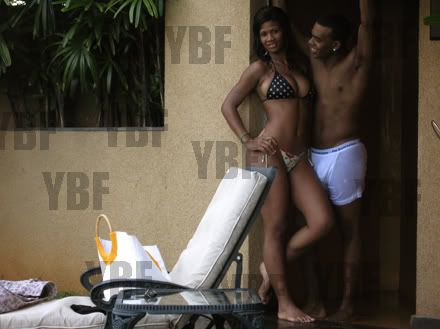 His girlfriend's not gonna be happy about this pic. An Angolan dignitary who invited Mario to perform and see the sights of his country got a little more than he bargained for when Mario to make his daughter, Anabella, his new jump off. According to my sources, she really showed him the sights, starting with the luxurious rooms at the Hotel Alvalade Luanda. And I'm sure this has nothing to do with
his new single
"How Do I Breathe" dropping off his upcoming album.
Only the Hallez could make kissing the ground look sexy:
She stays rockin' the Dolce and Gabbana.


YBF chick Kelly R. sang the national anthem at the Sony Ericsson opening yesterday:


And her BFF Serena won of course:
Damn you Meagan Good and your ghetto girl earring influence!


And D-Wade and Star Jones were there in the audience too:
Power 105.1 FM Fifth Year Birthday Bash concert went down yesterday:
Lloyd clearly was doin' some thangs to Egypt.
Swizz Beatz

Cassidy's making a comeback I see.

The Randomness:
Are you serious Reggie Bush

? No one is talkin on the real reason his ass has been banned from the Playboy mansion--but word has it the conduct violation was actually a condom violation. Eww. I've also been told the conduct violation he could have been that he was caught trying to sneak someone who wasn't on the list into the mansion. It's happened before. Whatev Reggie.
Stay Fab!