Just when we thought Bobby Brown and Supahead Steffans had parted ways for good....his ass is STILL sleeping on her couch. And now she has proof. For some reason she thought we cared to see her video diaries she's been posting on her website. So she posted one yesterday complaining about how she needs a vacay because she's working so hard. Mmhmm. Then she proceeds to talk about how she's "over this sh*t"....namely Bobby Brown. And this heffa takes the camera into the living room to show broke down ass Bobby Whitemouth Brown snoring and looking like foolywang material on her couch. Damn shame. Go
here
for the vid (click on B.O.B.).
Ms. Jilly from Philly is back:


She performed at Radio City Music Hall the other night. Loves it!


Ewww....



Timbaland was out and about in Paris yesterday shopping in some designer stores. Lookin a mess...



Here's some pics from CiCi's new video for "Can't Leave Him Alone":







I like the baaaartender....


WTF? Akon made an apology song to everybody about everything that's been poppin off with him lately. He really could have kept it though.
Guess who's joining the Pussycat Dolls: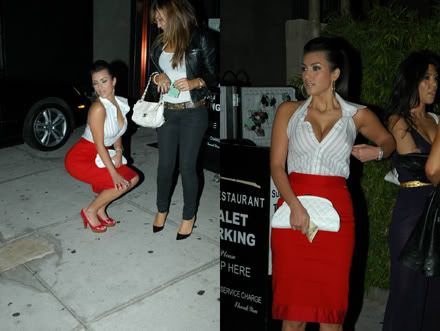 Out to dinner this week

None other than the Hodashian. She'll be living it up on stage in Vegas doing some Pussycat Doll shows a la Carmen Electra. Boo.