As if we needed 106 and Park to spread any further in the world:

Terrance and

Rocsi

hit up Japan for the official launch of 106 and Park Japan style. Fab stylist

Misa

Hylton

worked their fashion situation out with her Madison Star Couture line and some other designers: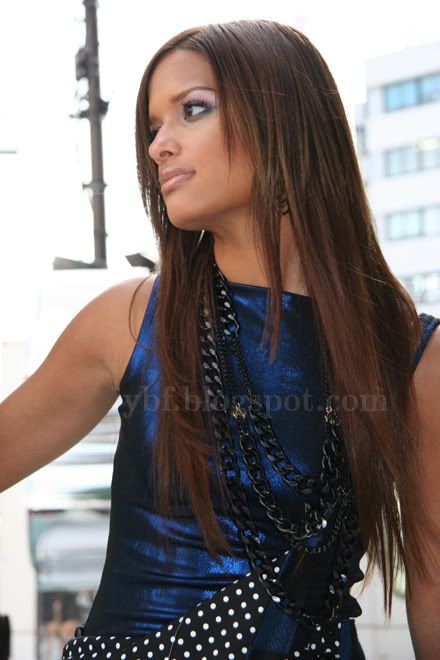 Did they really have to pick 106 to be the show to be shown worldwide? I'm just

sayin

'....




Tracey Morgan hosted the Guy's Choice Awards rockin' a Kill Bill suit. Funny ish.
Rih Rih is continuing her publicity slut period with her stint on TRL yesterday:
And NY YBF correspondent Jennifer hit up her concert last night in the NYC:
Seeing that she sounded like a crackhead doing karaoke on The View yesterday morning, I wasn't expecting much. But I hear she sounded fabulous and performed fabulously. I'll have to see it to believe it....
Uber YBF chick Gabby Union has been partying it up these days:
And she and Kelly are
looking like twins
.
Brian McKnight hosted a party with Gabby at Set in Miami:
She hit up other clubs in the MIA this weekend too. Chick is effortlessly fab and it makes not a lick of sense. Hate her...
Then she attended Russey Simmons' book signing in the MIA:

Congressman (and my Frat) Kendrick Meek was there too:
Teddy Penderass....Pendergrass...celebrated "Teddy 25" - A Celebration of Life, Hope & Possibilities in Philly. Mo'Nique and Patti came out to help celebrate:

So did

Musiq

.



I just want Mo to shave those legs ONE TIME. Just once...Damn it

Shar

Jackson:


There are so many things wrong with this 10

th

grade picture right here. Can we not rock the hazel contacts anymore? Thanks. And was lotion forbidden in this gift suite you're attending? And everybody around you needs to be slapped for this outfit right here. Moving on....Serena's not sulking about getting beat at the French Open...she has decided to kick it on the beach with her

lil

boo Jackie Long:


Tracey's still playing the beard role:



Maybe it'll stop when the results of Mel B.'s paternity test hits the media. This

ish

is about to be better than Maury.
Fabolous

and DJ Clue hosted a party for the Ed Hardy SOHO store opening yesterday:



Loves me some Fab.Celebs hit up the Marcus Allen 5

th

Annual Celebrity Invitational at Lucky Strike in Hollywood:



L.A. Reid's son Aaron thought that Sweet 16 reality showed=celebrity. Think again boo...

Emmit and Pat Smith rolled through.So did Ced and his wife Lorna:

And Anthony Anderson.

And

D'ondre

Whitfield was there too.









Isaiah Washington was spotted going to a West Hollywood Cigar store this weekend.
Kelly R. performed this weekend at the G-A-Y Astoria.And now for a random funny quote from Kelly:


The Bootylicious beauty insists she has "no need" for sex. "I don't need
it. It's overrated. I get better kicks from going to beautiful countries and
hanging out with my friends."

Stop playin Kelly...


And here's a random quote from Luda:
"If you're proud of yourself, you've broken out a ruler and measured yourself.
All I can say is I'm extremely proud of myself. And it took me a while to
realize because it's not like I go around peeping at other men. It's
something I have been told by many women. I'm exceptional - very much, I was
told. Women, watch out for us medium built guys."



Interesting.


So this is how Bad Boy artists get media face time:



Bad girl Cheri Dennis was apparently arrested this past weekend. Supposedly it's because of an "encounter' ith police. Come get ya girl Diddy...Shout out to Illseed for the pic.

The Randomness:
My nosey ass will be watching.


Eric Benet and Prince's ex wife Manuela have been spotted out and about coupled up in Canada recently.

Story