The weekend was star filled and hot--literally. Y'all know it's hotter than bacon grease here in Vegas. But C-Webb and the celebs definitely did it big for his Chris Webber Foundation charity. Here's the scoop:

Lots of folks hit up the celebrity poker tournament on Friday at Caesar's Palace:



Chris and actress Mari Morrow




Chis conveniently didn't have a chick set by his side during the weekend...but he was caught snuggling up to his rumored girl here and there. He was spotted with Mari Morrow several times. But he was with someone else during his main event soiree the next night. And yes ladies...he definitely has sex appeal. Even though Tyra's rants about him cloud those thoughts a bit....
His BFF Nas was at all the events.


With his sexy self. And Mrs. Jones decided not to come along this year.


YBF chick Rochelle Aytes was there looking effortlessly fab. She kicked it with Howard Hewitt and Mari. And she was peeped snuggling with her man most of the time at the events.
Fab chick and Miss USA runner up Tamiko Nash was there playing the tables with Charlie Murphy.
Jackie Joyner Kearse was there.
And Claudia Jordan made an appearance at the events looking fab:

She clearly was putting those rumors about her and Diddy to rest because she was surely trying to get at some other folks this weekend. Too bad Mr. Webber was preoccupied. But you aint heard it from me.....
Rip Hamilton and Sway kicked it.


And Finesse Mitchell came out of hiding to make an appearance too:



He's such a cutie.

Mark Curry was there acting a fool:



But I was sooo mad at his sock/shoe combo choice.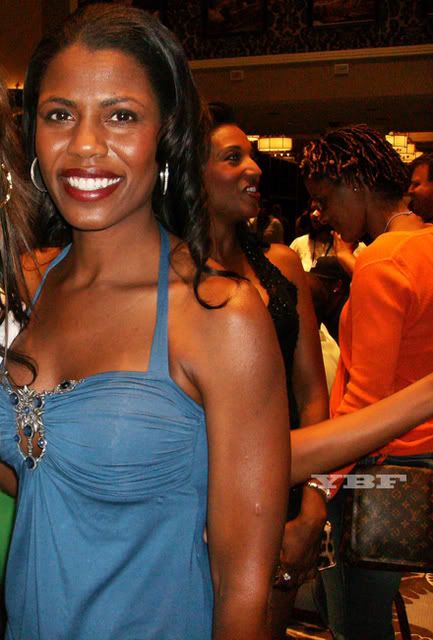 Omarosa was there trying real hard to be seen. She has stepped her game up a bit though.





Charlie Murphy
And Drew Sidora decided to take her role from "The Game" to the streets and dress like she was on groupie status:
Not a good look. She's got that Meagan Good syndrome--Cute sweet girl who can't avoid the skanktastic look.
And over at the after party at Club OPM:
The still fine Laz Alonso kicked it with DJ Clue.
And Carmelo Anthony made an appearance. Partying it up extra hard from all the groupie love surrounding his ass:
Chicks really need to stop losing their minds behind this dude....
Bun B. and Rasheed Wallace were there.
Spinderella was there kicking it with Biz and friends. She's definitely a fab chick by the way...
Zab Juddah's lil self was there causing ruckus.
Tachina Arnold and her fab haircut was there with Kym Whitley:

Guy Torry
That curl was pure comedy...



Big Boy was barely recognizable.
And Doug E. Fresh and Slick Rick hit the mic: