WTF? Karrine's newest video diary entry (don't act like I'm the only one who can't stop watching this ish) she's posted
on her site
is some foolywang material. She's claiming to be in holy matrimony with skittle massaging Darius McCrary.

*blank stare*

Whatever. I'm not buying that publicity/sarcasm stunt for a second. Either way....she and Ashanti need to go away...for a really long time...with that annoying ass laugh. And Darius is just begging for another serious STD rumor to circulate about his ass.....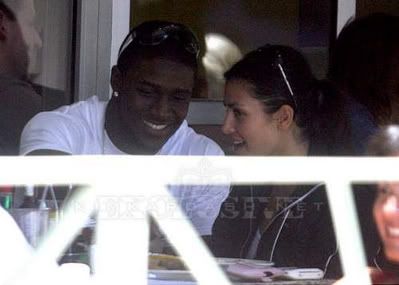 Hodashian done got it twisted.
She said in a L.A. radio interview yesterday
that those rumors about her beefing with Whit are untrue. But she did decide to sing Whitney's song to describe Whit and Ray-J's relationship...singing "It's not right but it's ok...I'm gonna make it anyway." Whitney will burn her ass up like some crack. Don't play with her little girl. Kim also said she's keeping her "relationship" with Reggie B. "private". That is...until the sex tape she will claim she never made with him leaks.
Kelly's album release party went down at Home/Guesthouse in NY last night:
Fabulous look. And her girl Beyonce decided to come out to support:
Well wasn't that special? Anyways, my sources tell me both B and J hit up the party and folks went nuts. And apparently the DJ played almost all their songs and only 2...yes, 2...of Kelly's. Michelle was there too and they had a mini DC reunion when Soldier and survivor came on. Fun times.
Stay fab!