WTF is going on here Kim?:



Pic source: Celebrity Babylon




Apparently she's hopped on the Team Lindsay Hohan train and is helping sell "Leave Lindsay A Lohan" tees. She told sources she could relate since she did spend 10 months in the slammer herself. What, are we about to start a damn Cap'n Save A Ho campaign for EVERY chick who's being threatened with jail time? You need to be focused on why your chi chis look like they're melting out of that dress. That ish aint cute Kim....at all.






So Tameka has cleared up the rumors
on why the wedding was canceled....by NOT clearing up the rumors. She really could have kept that lil "statement". Just whack...





Ms. Luckett has been out and about around the H:


She did some radio promo with KeKe Palmer and Omarion.
And she hit up an 80's themed party in a fab throwback fit:
Loves it.
Tyra B. is still in talks to move her show to the NYC and here's some pics of her taping in the middle of Times Square:
Hmmm...not sure if I'm feeling the dark Hefty bag look.

But you can't help but laugh at this chick.
French model and actress YBF chick Noémie Lenoir was spotted with her son in St. Tropez this weekend:

Source: LSA





Loves her look and new haircut. She's also married to footballer (soccer player) Claude Makélélé for all my international YBF folks. And she has a role in the new Rush Hour 3 movie.



Here's some pics of celebs at their fitting for the Celebrity Catwalk Fashion Show going down in L.A. next month:




My General Hospital fans know wassup. Too bad he's engaged...


Lisa Koffey from Wild 'N Out




Essence Atkins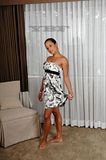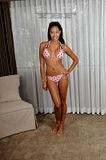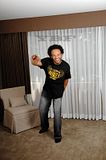 The Inspire(RED) event went down last night at Mood in LA:


I'm just loving all of Mel B.'s post baby fabulousness right now.
Bow Wow's rumored chick Melody Thornton was there and I seriously thought she was rocking a jailbird outfit at first glance:
That Chudney just tries so hard. Bless her heart...



Eve's new vid ft. Sean Paul for "Give It To Me" is out.



The Randomness:
Star Jones has confirmed what we've known for years. Story
Assie is still killing our ears with a new song called "Is It You" for a new movie she's in called Step Up 2. Wait...they made that movie a sequel? And they casted this chick for a dancer movie? Seriously?