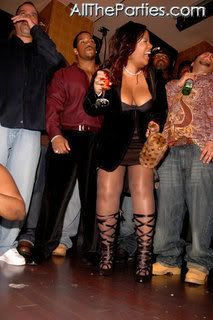 The year of the jump offs continue...

Tarsha Jones went and lost her damn mind and is releasing a tell all about all the rappers and blac hollywod a-listers she's sexed in the past. And she talks ish about her enemies MJB, Wendy Williams, and Beyonce (of course). Here's a lil something she said about Busta, Lil Kim, and others:



"With Busta, it was only sex," Jones writes in her tell-all "Have You Met
Miss Jones? The Life and Loves of Radio's Most Controversial Diva" (Ballantine). "I learned not to trust a proposal of marriage made in bed." The rapper gets one great big compliment in the motor-mouthed memoir. "Busta was as gentle as he
could be, because he was packing," Jones writes. "Busta's lovemaking was not for the timid or faint of heart." But, Jones adds, "The fact that our lovemaking never lasted too long didn't bother me, because I didn't enjoy his drops of sweat raining down on me." Afterward, "Busta would stroll around the apartment butt-naked, then shower and go into the kitchen and fry an egg sandwich - for himself. I guess I should be grateful. It's not like he didn't offer me a bite." Of the sandwich.


Jones goes on to call Beyoncé "barrel-a-d" and says her "acting leaves something to be desired." She then claims that when she first met Beyoncé's fiancé, Jay-Z, "he turns and stares at my ass" and made a sexual remark.


There's plenty of drama, too. When Jones lived in the same
apartment building as the Notorious B.I.G., his lover Lil' Kim begged Jones to let her in to confront the rapper's wife, Faith Evans, she claims.


When Russell Simmons comes on her radio show, she writes, "he launches into a blistering 10-minute promotion of 26 products he's created in the last two days."


Rival deejay Wendy Williams is, of course, not spared. "After all of
her years in radio, [she] has not elevated above curb level in terms of paving the way for other women in radio. Disappointing."

And when Mary J. Blige fell onstage during Hot-97's Summer Jam last
year, Jones was glad, because Blige forgot to thank her at the mike. "Karma is a bitch," Jones writes in the book, which she'll sign at Borders on Columbus Circle next Wednesday night.

Source:
NY Daily News
This chick must be scared of losing her day job cuz she knows she's wrong for this mess. Especially since she railed Supahead and Carmen Jones for doing the same exact thing. Whatev Tarsha Jones. I'll still be reading though.....

Diddy's at it again:He posted all up on Diddy TV that he's looking for an assistant. He says, "So I can yell at you, scream at you....and keep you up late at night." That ish would never pay enough....