A lot went down this weekend so keep up...

Look who hit up the Hamptons:





Serena is assed out in the new issue of Jane. Do it then Ms. 'Rena.



Fab chick Amerie was spotted out in London this weekend:


Her manager/publicist should get a raise for knowing which paparazzi to put in his speed dial to let them know where they "might" be next. Because who is seriously stalking down Amerie for Razzi shots on their own??


Black folks hit up the Beckham's "Welcome to L.A." party. I would talk about them for that but I'm guilty of secretly being a slight stan of Vicky Beckham my damn self:



Will and Jada were there. And did she send out her stylist to dress everybody because everybody's looking like a Posh mini me:
Mel B. was there in her usual tight satin:
And souces say she revealed that she is indeed no engaged to Stephen Belafonte. That was quick.
And who invited Wesley Snipes?


Speaking of Mel....you were out to lunch with your lawyer this weekend Mel B. huh?






And it's Gloria Allred? We all know what that smirk means. That's yo ass Eddie!



Willy Smith is about to become a superhero. How many movies does this dude do at one time?

Will Smith as Superhero "John Hancock" in the Upcoming film Hancock
Laila Ali finally sealed the deal and got married over the weekend to her fiance Curtis Conway. congrats to them.



Dr. Ian's 50 Milion Pound Challenge tour hosted by Steve Harvey:
JD had some So So Def activities in the ATL this weekend:
Biz DJ'd:
Damn Keith Sweat. Rough times huh?
Jagged Edge came out of hiding too.
Larenz Tate and Nelly hit up the b-ball game and after party at Compound:
Magic Johnson hosted the official Fight after party in Vegas this weekend:


"Model" chick Dollica Bryan must not know Cookie Johnson don't play this extra close mess.
The cast from The Game had a cast party:




YBF chick Keisha was there:





The HOD ads never stop:
That dress is looking mighty similar to those Rocawear dresses.

Speaking of B and Co., she looked fab at her concert afterparty in Miami:
I wanna laugh too Robin.

Yep...B thinks you're scary too Scott Storch.


And finally, Lil Kim was at the L.A. Direct Mag expansion party:


That's just a sad situation all that plastic...


Rih Rih's on the double cover of the upcoming issue of VIBE Vixen: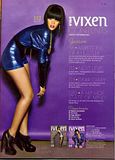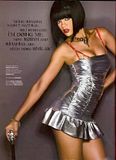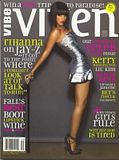 Hot.

Stay fab!