Look whick skanktastic chick is trying to put her voodoo on Black hollywood:
Apparently Lauren London and Aubrey are new BFFs as of recent. They hit up the Platinum Lounge party for the premiere of
platinumlounge.com
in LA at the Globe Theater Sunday night. At least Lauren looked uberly fab:
And you can check out an interview she did a few days ago with The Fly Guy Chronicles about dating and love here.
So is this what Tameka's wearing on the honeymoon?: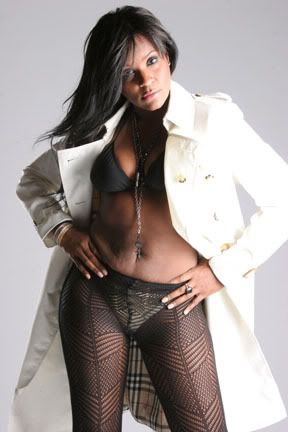 It's an outtake from a photoshoot. No comment.


Latifah hit up the red carpet for the premiere of her new Hairspray movie last night in LA:
Interesting.

Master P hasn't gotten tired of straight to DVD movies. His next one is called Black Supaman dropping in August. He talks about it

here

. Yes....he's serious. Check out LeToya in the new issue of Black Hair magazine:
British perfume company Yardley's of London just made her the face of their line. She also beat out Jay-Z, Rhianna, Ne-Yo and Cassie for the "Best Music Video" for "Torn" at the Urban Music Awards this weekend. And she's working on her second album that's dropping this Christmas. Getting treated like a stepchild at the BET Awards surely hasn't stopped this chick.
*********************************
Photo credit: Safety4Kids/John Harrington Photography


I had the fabulous opportunity to sit down with Kerry Washington recently when she came to DC to do a hearing on The Hill. She's on the National Taskforce for Children's Safety and her role is to be a voice on how to protect children from "bad" media. She, of course, takes her position very seriously and she is just as fabulous in person as she is well spoken. I decided to drill her about her role, fashion, and beauty takes since I only had a few minutes. And here's some of her faves:
Style: Chic, comfortable, with a bit of sex appeal.
Skin care secrets: 8 hours of sleep and lots of water! (I told her she knows damn well that's not all she does but she claims that's her secret to her fabulous skin.)
Quirkiest thing about herself: She's obsessed with countdowns. Any countdown. The end of the year is obviously her fave time of year.
Fave celebrity guy/celeb crush: She refused to answer saying "I can't tell you! Then when I see them it'll just be weird." She did say that even though her engagement to David Moscow has been broken off...they're still really good friends. And she's dating "a lot".

Check out Kerry's style profile and how to swagger jack it over at
Strictly Fabulous
.
The Randomness:
Here's a leaked Usher track called "Make It Rain". Me likey.





Chris Webber's Badabling Weekend is almost here. Get your tix for the Vegas celebrity weekend here.