I knew that heffa Kelis was lyin' when she said they weren't taping a reality show. And that they just hired cameras to follow them around for the hell of it. Whatev. She's been telling folks they may send in the tapes to MTV because they want them for reality tv. Here's the first preview of their upcoming reality show on MTV. How convenient:

I have no shame. I'll be watching.



No ma'am Ms. Tyra...

Source: TC



Where is that Get Hairapy person when you need them?

Alicia K., Tracy Ellis Ross, Donald Faison and his girlfriend Cacee Cibb were all spotted out in a parking lot in Hollywood having some convo:

Ooooh Alicia. You know you wrong for that extra young damn near stonewashed vest.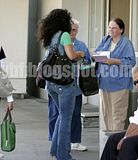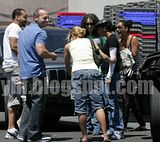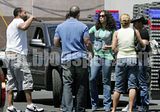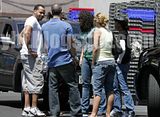 And speaking of Tracy Ross....

I had to let my feelings cool off this morning about that whack series finale of Girlfriends last night. Being a staunch Girlfriends obsessor, I was expecting it to be a royal occasion and that it was not. However...I AM glad Joan's ass finally got married and didn't pick Brock's bad timing ass. I'm on Team Aaron. And I was on the verge of tears during his whole romantic proposal...but then it was ruined with random folks showing up at the proposal event like her law school prof, her best friend from law school, and other folks who were never or barely on the show. Anyways....no Toni Childs appearance. So boo.


Many credible sources are saying this is the series finale...even though the CW said last night this is the SEASON finale. I have a feeling it's a goner. Damn.
And finally, lots of celebs hit up the "Poiret": King of Fashion Costume Institute Gala event at The Metropolitan Museum of Art last night:


She would have been fierce had her assistant run some Jergens over them knees.
Apparently the theme of the night was Hollywood Goth because everybody looked like Halloween in the Springtime. I love anything fresh and different, so I'm feeling the concept. But only some folks pulled it off...

Like Ms. Patton. Fabulous. Robin looked pretty damn dapper too. Mmmhmm...

Alicia also looked pretty hot:




Rih Rih rocked the Hollywood Goth looked well:

Taye showed up somewhere with his wife for once:




And of course Nick and Selita made an appearance right around the same time as his proposal:




J-Hud looked fab in her floor length silver sparkly number:




Andre kills me with the capes.
J-Lo killed the whole Hollywood Goth look with a serious old glam factor:
Damn Iman...

Always showing the young chicks she's still the baddest in the game.





Check out Da Shop Boyz's brand new video for "Party Like A Rockstar".




The Randomness:
So Sanjaya might be a contestant on I Love New York 2? GTFOH! He's already number one on the I Love NY 2 contest. Must see tv indeed....
When will folks learn? People INSIST on f'in up their money....Akon Story