Oh...so this is Flav's baby's momma:




There is just all kinds of wrong about this vid. I refuse to waste precious seconds of my life speaking about it though.
Well looky looky. Who's this chick Russey? Whoever she is she looks scared as all hell that KiKi's crazy ass is about to come after her with a knife.
Guess who's the new face of the Rocawear Ladies line:

CiCi of course. They all celebrated at Buddakan in NY last night:


I guess we haven't retired the skinny jean, platform pump, and unbreathable top look yet.
Maxim's 8th Annual Hot 100 Party went down in NYC yesterday:
Julissa was there.

And so were the faces of the "How Not To Pimp Your Ho" manual. Who the hell concocted this list?
Meagan Good was spotted out and about doing her usual...
Don't let me see this chick on the street at any time. A run by WILL go down and those earrings WILL be jacked. I'm willing to scrap for fashion. Chick needs to understand....
So this is who you've been hiding as your man Meagan. None other than Jets player Thomas Jones I see. She apparently has been trying for a while to keep him under wraps. You aint slick mami....
Luda's Foundation 4th Annual Benefit Dinner was at the Atlanta Apparel Mart last night:
He brought along his cute daughter Karma.

The fabulous Kenya Moore was there. Cute dress.


And somebody insists on continuously inviting Chingaling to events.The
BET Awards nominations
are in. 50 Cent, T.I., Robin Thicke, and Tichina Arnold were all at the Roosevelt Hollywood Hotel yesterday announcing the nods:
And the chick you love to hate leads the count with 6 nods.



Check out Amerie's hot new photo shoot: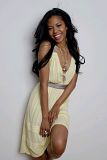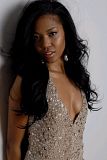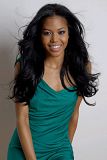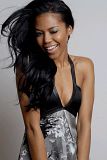 Source: LA


Fab.




The Randomness:



Check out Jay-Z's brand new remix to Amy Winehouse's "Rehab" here.