I'm so not feelin' this....



Nick Cannon has a new lil boo. It's Victoria's Secret model and fab chick Selita Ebanks. Apparently they decided to take their relationship public at the GM show the other night. But actually...it's real public now.
Us Weekly
is reporting that the two got married last weekend in Vegas during All-Star weekend. She is rocking a fat rock on that 4th finger left hand. I knew somebody was gonna hit up the infamous Lil Chapel. Oh Selita...the level of whackness you just stepped into. And damn....Nick Cannon must have some serious ish to offer (y'all know what I'm talking about) if he's pulling all these chicks. I just don't understand...






And it's official. A very reliable source told me that he and Tamika Foster are indeed engaged. He even popped the question with a 9-10 carat ring. Niiice.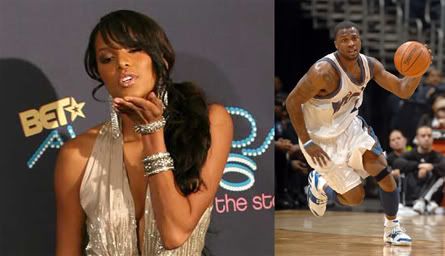 Speaking of new couples...Wizards Baller DeShawn Stevenson told media sources this week that he and LeToya Luckett are a new couple.
He gushed about her in his post-game interviews
and it's just too cute. I knew there had to be a reason why she's been spotted at all these Wizards games lately.


This must be done:



Hmmm...ok I feel kind of bad about that. Well....not really. But all you Rich Boy fans can check out some behind the scenes footage of his new video shoot over at
Monica Monroe's place
.


Halle and her beau Gabriel are the cover story for the upcoming issue of Hello mag-Canadian edition:



Sources tell me that they're going to be revealing some good info in the article. Y'all know I'll have you covered soon.
Speaking of Halle, she was spotted out at the Opening Night for Wicked the play in LA:
I saw Wicked on Broadway this summer and I definitely recommend it. Loves it!
Cute.



~~~~~~~~~~~~~~~~~~~~~~~~~~~~~
Fabulinks: