Will and Jada Smith hosted a party for MJB this weekend to celebrate all of her Grammy nods. I hear even Oprah had a hand in hosting the party. Everybody who's anybody was there:




Babyface and LA Reid. Now that Babyface has signed with Def Jam, they've been reunited.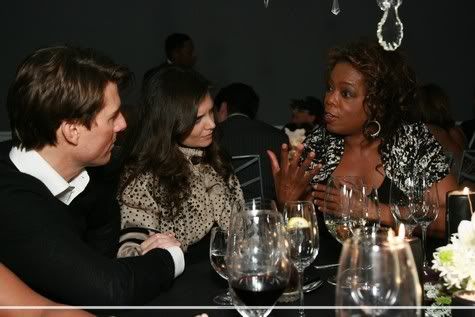 I can guarantee you TomKat is telling O her wedding invitation got lost in the mail.

That diet Kevin Liles is on is clearly an eat nothing diet.
Garcelle looked hot as always.
I see you Heavy coming out of hiding and stuff...
Note to Quincy: Corrine doesn't want you boo.

Aww...Omar and Keisha shared some kissy kissy time.
So did Nicole/Boris and MJB/Kendu:

JD rocked his good Easter suit I see.
Mary's fam was there to support.
Rodney and Holly Robinson Peete have been married for a decade and are still cute.
Clive Davis hosted a Pre-Grammy party as usual last night. Everbody was there:

So Tyrese is making public appearances now and still telling people the whole domestic dispute story is false huh? Funny funny.
Benny Medina and Beverly Johnson
Jenny performed:



What's really going on with this dress Tyra?


Rih Rih, CiCi, and DIddy spent some time in front the cams.
And our fave comeback chick Whitney was there--sans Ray-J:

Jump-offs don't hit up public events.
I wonder if Ciara knows Bow Wow was trying to be slick and all up in Rihanna's ear that night:

Terrance's black and white shoes are killin' me.
Ms. Jackson was getting a lot of love. Even with that hideous wet and set curl she has in her head.
And as for the afterparties:
XM Satellite Radio Saluted Ludacris at their Post Grammy Party hosted by Queen Latifah:

Wylcard, Quentin Tarantino, Anthony Hamilton and RZA
Regina King and Tichina Arnold offered up some kisses.
Michelle and Kelly hit up the party, but skipped out on the People party hosted by Bey.
So I guess Melyssa Ford made it hot to put video hos on the invite lists.
Kanye brought his moms Donde to the party.
John Legend, Ciara, and Beyonce hit up the Sony/BMG afterparty:


And other celebs hit up the Universal Music Group afterparty:
And finally, Beyonce hosted the first ever People magazine post-Grammy party:

Not looking that sickly to me. I'm just sayin...
India brought her sister along.
I'm officially on Grammy overload--I'm done.