The 2007 Sports Illustrated Swimsuit Issue Party was in LA last night at the Pacific Design center:




YBF model chick Jessica White was there since she's featured in a photo spread with Gnarls Barkley. Just gorgeous.

And of course cover girl B was there:



That dress is sumthin' fierce. Loves it!
All the models kicked it inside the party:

B's beau Jigga was next door in Vegas at the Hard Rock Hotel hosting a party for his Rocawear line:



Jeezy and Bun B came out to party.
And if Jeezy was there, y'all know his down low main chick Keyshia was there: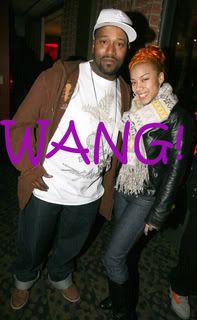 Ummm Keyshia. What in the crispy overly citrused hell is that on top of your head?? You and Jeezy trying to be matchy matchy with the headgear or something? Step ya hair game up boo.


Looks like people are kicking off NBA All-Star weekend early. Celebs were at the MAGIC Marketplace at the Las Vegas Convention Center last night:
The Simmons family was there. And it looks like somebody's jackin' Naomi "Slapaho" Campbell's swagger hard:
But I still love the new look.
Big Boi and Lupe Fiasco hit up the convention center.


So did Big Gipp.

T.I. was there just being his usual sexy self.
And the Simmons sisters also hit up the event.
Mimi was spotted leaving a photocall for London's Pinko that she's doing ads for now:


Looks like MiMi fired her previous stylist. I'm feeling this look and definitely that jacket.
Here's a cute ad in the new Heart and Soul of Erykah Badu and her daughter Puma:



And I've been told several times that Kim Kardashian has had lots of plastic surgery over the years. And look what popped up on the net:
The 90' era vs. now. Funny funny.
In non YBF news, America Fererra (she's 23) has reportedly gotten engaged to her long time low key boyfriend Ryan:


Supposedly they got engaged last month and Life and Style magazine is just now reporting on it. Hmmmm same thing happened to J-Hud...engaged as soon s she blew up. Interesting....
Producer Chris Stokes hosted a fashion show for his debut clothing line I told y'all about called Christopher Brian last night in Vegas at the Hard Rock Hotel..in a room other than Jigga's:


Omarion and Marques Houston were there.
The Randomness: